What's on your Independence Day menu?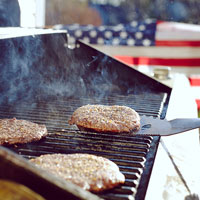 Whether you're having all of your friends and family over for a holiday bash or you're just ready for some chill out time with your family, July 4th is a great day to get out and do some cooking on your propane grill.
But what's on the menu for American birthday # 242? Ready to do take on something ambitious and jaw dropping or something simple and classic?
Either way, here are four keys to making your meal something to remember.
Have enough propane on hand. One of the most important ways to make sure you have a great July 4th grilling experience is to make sure you have enough propane on hand to do the job right. Fortunately, we can help you there, with 20-pound propane thanks available for purchase, exchange, or filling at our convenient Rochester- and Buffalo-area locations.
Do your grocery shopping early. Trust us, you're not the only one with holiday grilling plans. Want to make sure you have that perfect prime rib cut, or that exotic rub you've been eyeing and salivating over? Get it now – don't wait until the last minute.
Do a quick propane grill safety check. If you just replaced your propane tank, do a quick leak check – and always follow safe grilling practices.
Have your favorite recipes on hand and ready to go. Of course the most important thing about grilling is the food – so do your research and find the perfect recipe for your friends and family!Here are some resources to help you get started:
Yum! Grill well, friends – and Happy 4th!
Don't get caught with a gasless propane grill this 4th of July! Visit one of our Rochester- and Buffalo-area locations today to refill your 20-pound propane cylinder.